What is Equine Assisted Learning (EAL)?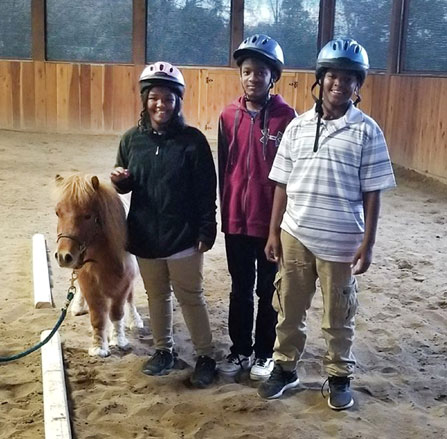 Equine Assisted Learning is a hands-on educational program that uses the interactions and developing relationships between horses and humans in an environment of learning and self-discovery. It is designed to promote personal growth by providing insights and opportunities to develop social, life, academic, or professional skills in a fun and supportive environment. Through a curriculum of activities designed to address individual goals and needs, each equine interaction is framed to help participants (children, teens, & adults) learn and grow. The barn/farm environment naturally lends itself as a unique multi-sensory classroom. EAL is facilitated by credentialed professionals with additional training and education in working with equines and understanding their innate behaviors and qualities.
How do EAL programs address social and life skills work at Take The Reins?
Each week the participants explore a new theme through the eyes of their horse. Examples are; making good decisions, reading body language, managing risk, setting boundaries & respecting personal space, teamwork & leadership, negotiating environmental sensory stressors, understanding social cues.
Each lesson begins with an introduction to the skills that will be explored, how the horses will help, and what students need to understand about the horses before they begin. With staff guidance the students interact and work with their horses. They continually observe their pony's responses and behaviors as feedback and validation on what they are doing. Staff assist students in making regular 'check-ins' to make sure that they and the horse understand and are feeling comfortable with each step of the activity. As the participants engage in the equine experience in an active manner, they are afforded the opportunity to capture the concepts to be learned, and develop new skills with their horses. As trust and comfort levels grow, they tackle new activities, building competencies and increasing self-confidence.
At the end of each lesson, students reflect, discuss, model, role-play, and participate in games designed to bridge the skills learned with the horses to their own social interactions and life experiences.
Take The Reins provides a supportive educational environment that allows for individual learning, including one-on-one assistance throughout each class. Our multi-sensory environment and inclusive teaching strategies supports all learning styles and learning differences. Accommodations and modifications will be utilized when needed to promote individual success.
What topics are covered?
The EAL Program at Take The Reins helps children and teens gain insights and develop skills and experience in the below skill areas. Topics are chosen to best address the needs of the groups of students attending the program. Our Equine-Assisted Learning staff work closely with parents to customize each lesson plan to the needs and strengths of the students. Below are common skill sets that many students gain benefits from exploring and practicing.
Social skills
Body language - Understanding non-verbal cues (others and their own)
Modulation of communication techniques/appropriate responses to others
Being clear/ knowing intent
Boundaries/personal space
Team work/ being a good leader and teammate/working together
Respect/empathy
Life skills
Making good decisions – managing impulsiveness
Honoring our instincts and feelings - Knowing when to ask for help
Understanding learning differences – appreciating each other's strengths
Mistakes – We all make them and we can all learn from the
Inclusion – valuing what makes others special
Creative problem solving
Dealing with new situations –anxiety and hypersensitivity issues
Assessing target issues & triggers
Honoring our situational needs
Learn to body scan –before anxiety gets too high
Self-calming techniques - Ways to de-sensitize
Ways to decrease anxiety and have success
Managing our environment
Why Equines?
All of the below attributes make the equine a natural partner to teach us about ourselves and society, provide opportunities to develop skills, and practice better ways to navigate life.
Both as herd and prey animals, equines are very attune to reading body language. They are able to give people honest, clear, and accurate feedback to their non-verbal communication. Equines clearly communicate what they are thinking and get confused when people don't do the same. Survival instincts have made them experts at reading intent, including our subconscious ones. Their feedback can help us become more centered and focused when interacting with them.

Equines don't bluff, pretend, have hidden motives or use innuendos. Their innate ability to communicate purely and consistently provides us with honest feedback to our use of body language and helps us to be clear and thoughtful in our social cues. This creates a perfect scenario as we explore our own social behaviors and the feedback the horses provide us.

Horses as herd animals provide a useable metaphor for our own society, including: leadership/teamwork, family, workplace, and classroom interactions. As the participants develop a bond with their horse, it is natural for them to want to be able to address their horse's needs, concerns, and comfort levels. This promotes empathy and respect. When a person provides clear communication and leadership, horses respond with a willingness to partner with them and follow. Participants can apply the skills developed while teaming with horses, to working with other people in a team or group.
CLICK HERE to learn more about our EAL for HomeSchooled Children
CLICK HERE to learn more about our EAL for Families and Siblings.