About Us

We had a love of horses throughout our lives that prompted us to get involved with horse activities about 9 to 10 years ago. We learned to ride, began showing cutting horses, and started breeding horses. These activities lead to our realization that horses spiritually benefit people.

The Lord has blessed us, and through the years our interest in working with children combined with our appreciation for horses gave us the idea to someday have an equine assisted activity center. Our church family was a perfect place to put our efforts and support for giving children with special life challenges additional joy and a sense accomplishment through the benefits of therapeutic riding. We have since evolved into an independent 501 (c) (3) Corporation, and a P.A.T.H. Member Center. Instructors are P.A.T.H. and CPR/First Aid Certified.

Take the Reins is located at Bending Tree Farm at 3636 Bear Creek Road in Thompson Station, just 7 miles southwest of Five Points in Historic Franklin. On 12 acres of land and a six stall barn, Take the Reins has 4 horses, Roy, Freckles, Fancy and Hershey; 2 ponies, Jed and Ted, that ride and pull a wagon; 2 mini horses, Montana Red and Dakota, and two burros named Sundance and Blossom.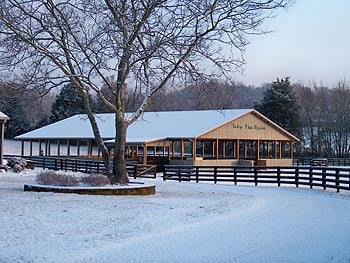 In 2014, because of our fundraising efforts Take The Reins was able to cover the outdoor riding arena. This allows riding lessons to take place in inclement weather. Thank you to all of our generous donors for supporting this program changing project. We appreciate your support, and we could not run our program without you.

Our volunteer help and their contributions are the heart of this ministry. Along with them, we seek to achieve our ministry purpose of "Developing self-esteem, a sense of accomplishment, fun and good feelings by being around and caring for horses through the guidance of Christ" would not be accomplished.

Take the Reins is truly a ministry that has arrived and been developed by the Holy Spirit. The Spirit's presence has been working among our church family, Rev. Vona Wilson, Sarah Carty, and our riding instructor Donna Nickols who have worked diligently with us designing this ministry. The acquisition of the horses, and the equipping of the facilities for the program are all answered prayers. The development of this ministry and seeing the hands of God Take the Reins has been an inspiring event.

Remember our motto:
"For one to fly, one only needs to... Take the Reins

Thank you for participating in this ministry.

In Christ's Reins,
Jerry and Sharon Clement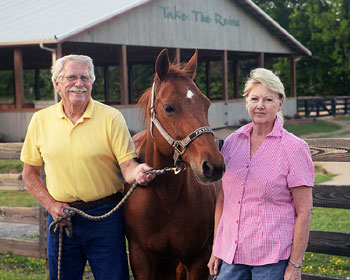 Meet Our Herd!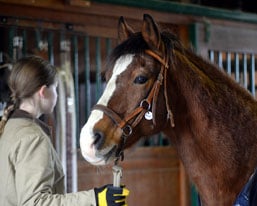 Roy is a 23 year old Registered Quarter Horse. He was previously owned by Gerald Clement, the President of Take The Reins. Roy was one of the first horses donated to Take The Reins after he and Gerald retired from their Cutting career. His quiet demeanor and willing attitude makes him a great fit for Take The Reins.
| | |
| --- | --- |
| | Freckles, standing at 14.2 hands is a 10 year old Registered Quarter Horse. She was previously owned by Gerald Clement and was donated to the program when it was founded in 2013. Her calm spirit greatly benefits our program. |
| | |
| --- | --- |
| Hershey is a 12 year old Rocky Mountain Horse. He stands at 14.3 hands with a beautiful mane and tail. Hershey belongs to Allen Shamblin and his family. He has been on lease here at Take The Reins since Fall of 2014. Because of Hershey's loving personality and great size, he is a favorite around the barn. | |
| | |
| --- | --- |
| | Jed is a 13 year old 12.2 hand pony who was donated to Take The Reins in 2013 by Tim McGraw. Jed is trained to pull a cart, and loves to be in parades. |
| | |
| --- | --- |
| Ted is a 13 year old 13 hand pony was also donated to Take The Reins in 2013 by Tim McGraw. He is half-brothers with Jed, and helps pull the cart in parades. | |
| | |
| --- | --- |
| | Sundance and Blossom joined the Take The Reins family in 2013. They were also donated by Allen Shamblin and his family. This dynamic duo provides confidence to our riders and they are great teachers during our indoor lessons. Carrots are their favorite snack, and they love their ears scratched. |
| | |
| --- | --- |
| Dakota and Montana Red are our miniature horses and are too cute not to love. Because of their small stature, they are great during ground lessons with our smaller participants. | |
| | |
| --- | --- |
| | Moose information coming soon... |